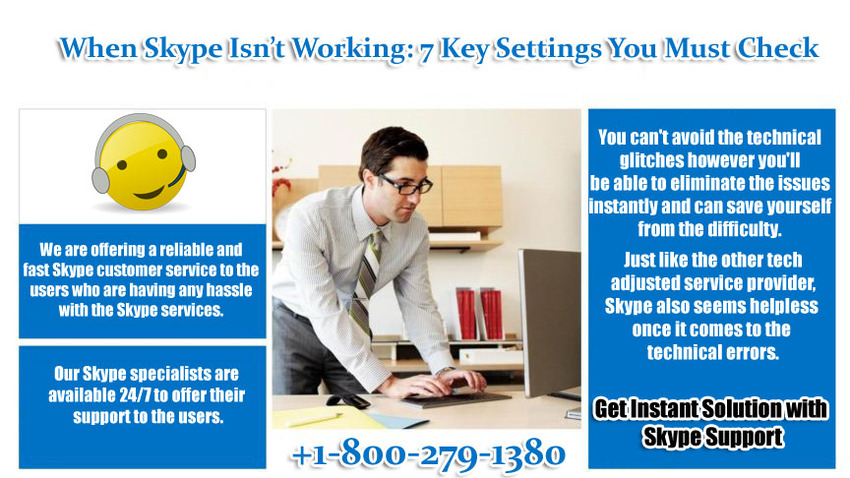 Sometimes Skype stops working unexpectedly. This can happen due to network issues, connection issues or server issues. If you are also suffering from Skype issues, then contact Skype Support.
Following are the important settings which you must check whenever you are facing issues with Skype:
Skype Heartbeat: Before you start any troubleshooting, check if Skype is having issues with its server. Go to Skype Heartbeat page if Skype is not working properly or you are not able to use any of the Skype's features. You can also do this from the Help menu of Skype and then select Skype status. You can see the issues with Skype here and there is nothing you can do for these issues. Wait till Microsoft fixes them and then try to reconnect to Skype.

Audio Settings: When Skype microphone is not working then you can test your microphone from the Audio settings option. Click on 'Tools' and then 'Options' window. Test the microphone by speaking into it and then check the green volume bar under microphone while speaking. You can try different devices until the volume slider starts moving. Check if your microphone has been blocked by the Windows. Click on settings and go to privacy and then the microphone tab. Now enable the 'Allow apps to access your microphone' slider and make sure the Skype app has the permission.

Audio Hardware: Next thing you can check for Skype is the audio hardware. Make sure that the microphone and speakers are plugged into the correct ports. You can plug USB microphones into any of the slots but analog microphones must connect to the correct sound jack.

Skype video settings: If you are unable to connect your Windows, it is possible that you need to install drivers for it. You can check the Windows settings for camera access. Go to settings and click on 'Privacy' and open camera. Check if the 'Allow apps to access your camera' is enabled and confirm the permission for Skype as well.

Make a Skype test call: To make sure everything is working properly, try making a test call. During the call test, you have to speak into your microphone after a beep. This will ensure everything will work properly like microphone, speakers as well as the network connection.

Check the bandwidth usage: If you are facing any issues with call quality with Skype then make sure no large-sized files are downloading at that time. This will lead to network congestion. Close all the downloading files or programs, and then retry to make the Skype call. If you are connected to a Wi-Fi network then try placing the device closer to the router to get a better network.

Latest version: make sure you are using the latest version of Skype and in case you have installed an older version then remove the Skype from your system and then install the latest version again. This will reset the Skype app and all of its connected devices like microphone and camera and will resolve any issues with them. Make sure all the drivers for webcam and sound card are updated ones.
These are the main settings which need to be checked when Skype is facing certain issues. Skype Customer Service is also available if you need any further help.